Quality Marks - South Downs School
South Downs is an Ofsted Outstanding School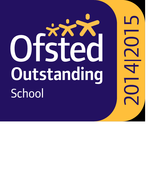 Following our inspection in June 2014, we were graded as OUTSTANDING by Ofsted.
"The school provides a happy, caring and stimulating learning environment where pupils achieve outstandingly well. They are prepared very well for the next stage of their education."
_________________________________________________________________
Learning Outside the Classroom

In March 2018 the South Downs School was awarded the Learning Outside the Classroom Bronze Quality mark.

The school worked with the Council for Learning Outside the Classroom to gain the LOtC Mark which is a national accreditation for schools which recognises, and supports the development of, learning outside the classroom across all subject areas. We promote frequent educational visits to further impact on pupils' current learning in school and this may include opportunities for pupils to attend residential learning experiences.
Visits to places in the local community and beyond ensure where possible, inclusion of all children and their needs. Learning outside the classroom also involves regular learning and activities taking place in the School grounds, in order to stimulate and extend learning experiences further.
---
Unicef Rights Respecting Schools Award (RRSA)


In July 2017 The South Downs School gained the Unicef Rights Respecting Schools Silver Award (RRSA).

The whole school community of pupils, staff parents and governors/trustees work together to learn about and promote children's rights. The core values of our school emphasise many of the key themes from the Convention on the Rights of the Child (CRC), e.g. building positive relationships and making an active contribution to society. RRSA values are now incorporated within our new curriculum, our learning environments and our approach to communication, play and social interaction. Wherever appropriate, pupils have been engaged in explicit teaching about UNICEF, the RRSA and the CRC. As a result of this input, pupils have been able to engage with aspects of the RRSA at a level that they can process and understand.