Welcome - Hazel Court School
Welcome to Hazel Court.
Hazel Court is a school for students from 11-19 who need the support of a unique and specialised curriculum to enable them to reach their full potential.
Our secondary school shares co-located facilities with The Turing School, providing opportunities to share resources and expertise.
Our Further Education Department is located on the campus of East Sussex College, but is still very much a part of Hazel Court School.
All of our students have an EHCP and their identified needs will be complex and significant in the area of cognition and learning (severe learning difficulties or profound and multiple learning difficulties) as described in the SEN Code of Practice. The students may also have associated needs in the areas or emotional/social and communication and interaction (ASD and or speech/language difficulties). In addition, the students may have sensory or physical difficulties.
Hazel Court has a dedicated, dynamic and experienced staff team, committed to finding the best routes to an individual's learning and therefore unlocking their full potential. The staff are highly skilled and dedicated in their commitment to developing the students holistically in all areas. We have high aspirations for our pupils and believe that with the best teaching, and in partnership with our families and external agencies, we can support them to achieve.
We believe that education for our pupils is about preparation for adult life. Communication and literacy are very high priority for all pupils along with a broad and balanced curriculum, including learning to be independent, accessing the community and learning about the world we live in.
We know that pupils learn best when they are having fun. Our teachers and support staff are strong advocates for everyone they work with and make sure they find the right way of engaging each young person in the activities and lessons on offer.
If you would like to know more about us, please make an appointment to visit via the school office.
If you would like a paper copy of any school or Trust information available on this website, please contact the school office.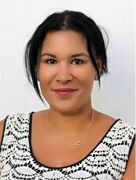 Kirsty Eydmann
Executive Principal
Hazel Court Secondary School
Larkspur Drive, Eastbourne, East Sussex BN23 8EJ
Tel: 01323 465720
Email: officehcs@thesouthfieldtrust.com
Receptionist: Ruth
Hazel Court Further Education Department
Kings Drive, Eastbourne BN21 2XF
Tel: 01323 438340
Email: officehcfe@thesouthfieldtrust.com
Receptionist: Bleu