Children's Rights

The Lindfield is a UNICEF
Rights Respecting School.
What are Children's Rights?
The UK Committee for UNICEF (UNICEF UK) works with schools in the UK to create safe and inspiring places to learn, where children are respected, their talents are nurtured, and they are able to thrive.
Our Rights Respecting Schools Award embeds these values through the United Nations Convention on the Rights of the Child (CRC) into daily school life, and gives children the best chance to lead happy, healthy lives, and to be responsible, active citizens.
The Award is based on principles of:
equality, dignity, respect, non-discrimination and participation
and takes a whole-school approach to Children's Rights education, which can be defined as:
1. Learning about rights for the whole school community through training, curriculum, assemblies, topics, focus days/weeks, displays.
2. Learning through rights by modelling rights respecting language and attitudes and making strategic decisions that involve our students.
3. Learning for rights by developing as rights respecting citizens through participation, empowerment and action.
This is taught within an overall context of education as a right.​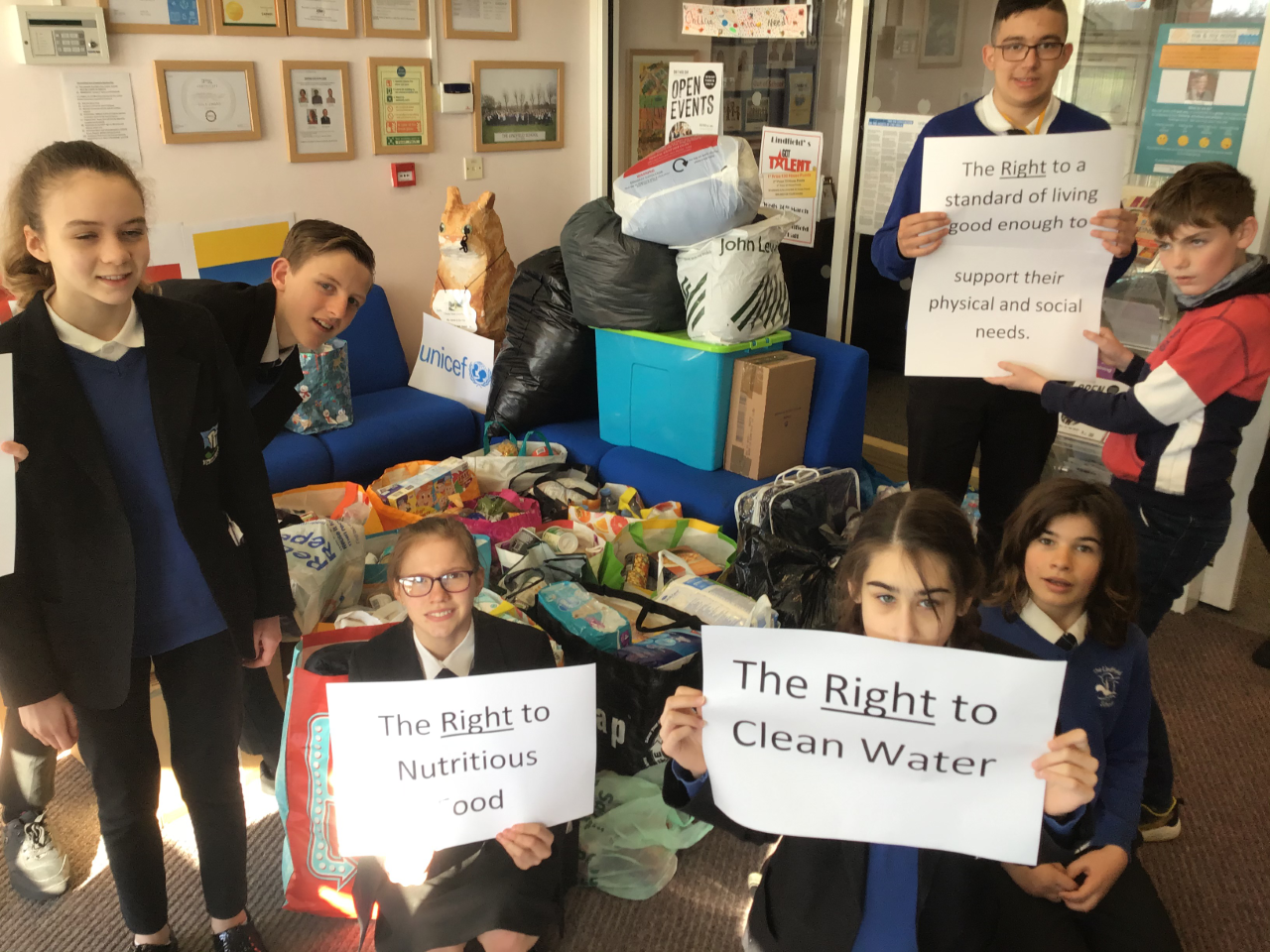 Following an assessment by UNICEF in November 2019, The Lindfield School earned the Gold RRSA award. You can read more about RRSA in the quality marks area of our website. We are delighted to have been re-accredited as an RRSA Gold school in February 2022..
All children have rights: the Lindfield School Community are helping to protect them. Lindfield students have been promoting children's rights and UNICEF's Global Goals for sustainable development through:
Soccer Aid - We have signed up for June 2023
Our G7 declaration on Girls' Rights
The Lindfield School took part in Birds2BHeard. Children from 20 Eastbourne schools made paper birds, each bearing their distinctive messages to world leaders attending the 2021 COP26 Conference on Climate Change. A huge flock of paper birds arrived in Glasgow, appearing at the conference and taking part in the youth march and rally and the global day of action march. The Eastbourne Birds were then exhibited at the Towner Art Gallery:
https://townereastbourne.org.uk/whats-on/events/birds2bheard
The TLS RRSA Ambassadors are leading our learning, and their decisions on our focus Rights have informed our teachers choices when linking Rights and Global Goals to their curriculum subjects.
Curriculum links to Children's Rights and Global Goals
The Ambassadors decided that our students may have difficulty trying to learn about all the Rights and Global Goals at once, so have chosen the following to focus on for now:
Global Goals (SDGs) for everyone at TLS: 1, 3, 5, 6, 13
CRCs for everyone at TLS: 2, 12, 22, 23, 24, 28
CRCs for extended Learning at TLS: 8, 14, 17, 27, 29, 30, 31, 39
Our new 6 week PSHE course on Children's Rights will be based on these focus Global Goals and CRCs.
Following advice from our Ambassadors, 4 of these Rights have been chosen as a starting point for all of our Trust Schools:
12 pupil voice, 23 disability, 24 health, 28 education
Ambassadors and students are always reminded that all Rights are equally important.
Please click here for further information on our focus SDGs and CRCs
Sustanable Development Goals (SDGs)
Convention on the Rights of the Child (CRCs)
What Lindfield students say about Children's Rights.
The Southfield Trust Children's Rights Policy
TLS RRSA Gold award report 2022.
Assembly on Children's RightsMany of our assemblies are linked to Children's Rights. Please see the assemblies area of our website for a full list.